RAIC: Solving geospatial data's speed-to-insight problem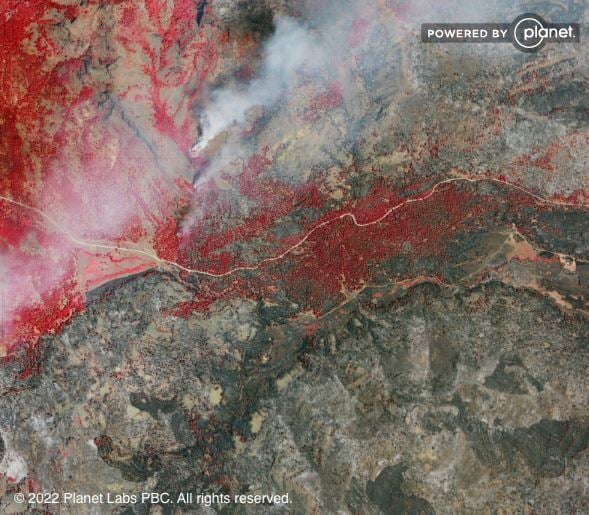 In this NVDI satellite image: healthy trees appear in red to stand out from those that have been burned.
A hurricane strikes, and the damage is overwhelming. In addition to tragic loss of life, countless homes are destroyed, leaving survivors to grapple with the complicated process of rebuilding, including filing insurance claims and seeking federal assistance.
What if aide organizations could accurately identify at-risk and affected areas and damaged properties, within days after a disaster, before residents even return to the region?
If this sounds impossible, that's because it was — until Synthetaic's Rapid Automated Image Categorization (RAIC).
An end-to-end AI solution, RAIC allows anyone — with or without AI expertise — to draw insights from unlabeled data within minutes. I recently sat down with Bill Tinney, the new Director of Partnerships at Synthetaic, to learn more about how RAIC will open new avenues for finding insights in geospatial data.
How RAIC identified submerged homes after Hurricane Ian
Bill showed me how RAIC queried imagery of the Cape Coral region of Florida, taken shortly after Hurricane Ian's impact, to locate damaged homes:
First, Bill clicked on a map tile containing flooded mobile homes.
Then, RAIC's unsupervised AI analyzed the dataset to return a set of tiles with similar properties.
Bill nudged the AI by marking a selection of the results as matches.
Based on this human nudge, RAIC produced a full heat map of flooded homes across the entire map.
Within minutes, RAIC's powerful AI had done what it would have taken countless human-hours to do.
As Bill points out, this capability makes RAIC the missing piece for companies seeking to unlock the endless potential of geospatial intelligence.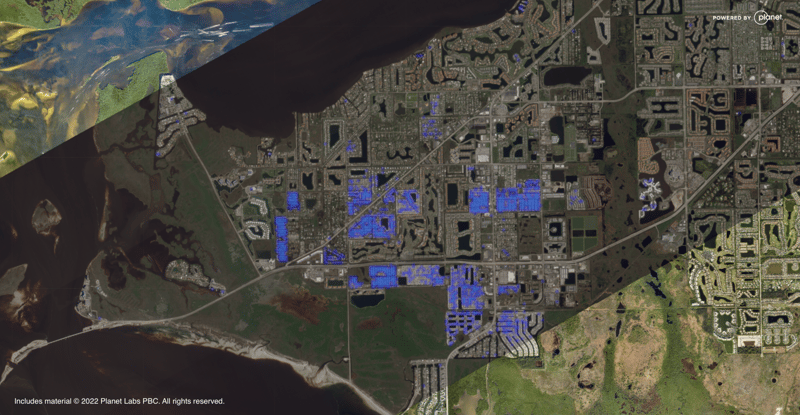 RAIC helps assess damage from Hurricane Ian using satellite data.
Welcome to the future of geospatial analysis – from raw data to insights in minutes
The geospatial information and services (GIS) industry is on the cusp of a new era — as data costs go down, the breadth of industries using GIS will expand.
Satellites have quite literally produced worlds of data – we're collecting hundreds of terabytes every day. Never before has so much information about our planet been available. With their view from above, satellites capture imagery of Earth's human and natural activity, from urban development to deforestation, from fire to flood.
"The challenge will become: how do you make sense of all this data?" said Bill. "How do you get to the quick insights and understanding? That's where RAIC comes in."
"In the future, companies of all sizes will use geospatial data to make better decisions, faster," said Bill. "From the farmer who wants to understand how their crops performed year-over-year, to the insurance company that's trying to assess large-scale damage from a natural disaster, to the board room where national security decisions are being made, RAIC makes it possible to get immediate insights out of all of this data about our world."
For industries from shipping to transportation, from insurance to environmental protection, and from national defense to health and human services, RAIC will enable more strategic resource allocation, stronger risk analysis, and immeasurable time savings. Ultimately, all this lead to increased profits, decreased loss of human life and property, and massive market advantage.
RAIC is already tackling a variety of use cases in the government, commercial, and humanitarian sectors. Customers could use RAIC and geospatial data to find and classify fire damage, crop health, and areas of interest such as concentrated animal feed lots — all in the name of battling the climate crisis.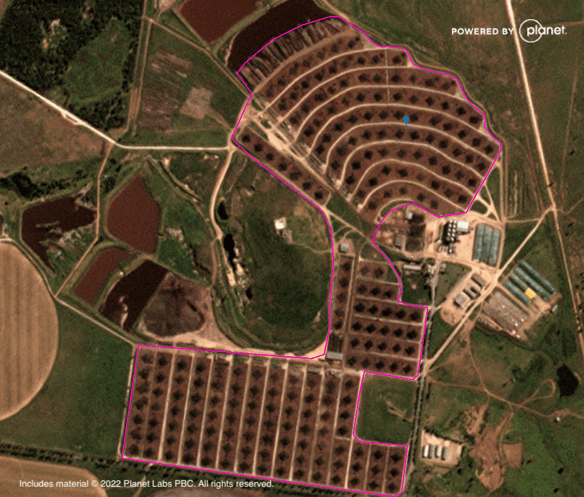 RAIC helps an organization search satellite imagery for concentrated animal feed lots, or CAFOs.
With RAIC, seeing is believing
Bill first encountered RAIC in his work in the defense industry, where he says he was astonished by its capabilities. He said: "Our mission was to enable effective decision-making in environments where time is sparse, or where your data has diverged from the domain on which its models were trained." RAIC's ability to make sense of enormous quantities of unlabeled data made it a perfect fit for that mission — and an object of fascination for Bill.
"I became enamored with the tool and couldn't stop thinking about what other applications it might have," Bill said. "There's a certain amount of joy that comes from being able to use a tool like this and ask questions of the data. My curiosity was sparked immediately."
Among RAIC's greatest advancements over traditional AI tools are its speed, scale, and usability regardless of expertise. Bill explained: "The technology queries and understands the data so quickly. The speed-to-understanding would traditionally require months of data labeling and a huge team of AI scientists, but with RAIC anyone can jump in and get actionable insights from the data immediately."
In one test, RAIC's speed and accuracy in identifying passenger planes, fighter jets, storage tanks, and helicopters on a geospatial dataset was tested against human labeling. Not only was RAIC 26 times faster on a sample of about 2,000 tiles, it was more accurate than human labeled data. Bill points out that the speed difference would be even greater with a larger dataset: "Where it took four person-hours to label those 2,000 tiles, it took RAIC 11 minutes. For the full dataset of 200,000 tiles, it would have been 400 person-hours — but still just minutes for RAIC."
And when it comes to scale, Bill added: "I've run queries on the entire subcontinent of India, for example, and found dozens of insights in a matter of hours. Within minutes, and working from unlabeled data, we were able to find every power plant, every solar farm, and every highway in the country. RAIC gives you the opportunity to think at a speed and scale that was unheard of until now."
Bill acknowledged that making AI analysis of geospatial data accessible to all means helping people expand their imaginations: "I think people have to reorient their brains to the sorts of questions they can actually ask with this tool because it gives you an entirely new avenue into interrogating your data."
"I think people have to reorient their brains to the sorts of questions they can actually ask with this tool."
"We've been conditioned to think that machine learning is this thing that's done by wizards off in some lair," noted Bill. "What RAIC does is allow anyone to go in and find the thing they're curious about. We get to start asking deeper questions of visual data and find answers we didn't even know to look for before now."
Interested in learning more about how RAIC might increase your organization's speed-to-insight? Contact us to get in touch with the Synthetaic team.